In order to understand where we are going, we must understand where we came from. Land dispossession, starvation methods, and residential schools are just some of the ways colonization has shaped the way we relate to land.
While the Prairies hold a long history of brutal colonization methods, the last year showed how the central provinces are making big steps towards decolonizing parks.
How can we build on this momentum of decolonization in city parks? In this year's public survey, 59% of respondents said they are in favour of park name changes. Meaningful consultation, respecting native plant species in park spaces, and promoting educational programming are a few ways to start.
The ongoing discoveries of unmarked graves has forced Canada to reckon with its ongoing legacy of residential schools as part of the colonial tactics that strived for Indigenous erasure. Municipalities, street names, secondary and post-secondary institutions have all been under pressure to change names that step away from the colonial figures they were named after.
Canada was born the moment settlers began claiming land, creating borders, and dispossessing First Nations, Métis and Inuit peoples. And while the ongoing effects of colonization can look vastly different across geographies, the prairies in particular trace land theft and displacement of Indigenous livelihood to agricultural opportunities that allowed white settlement to prosper. For Indigenous Peoples, this meant a violent history of land extraction, residential schools, and starvation methods through buffalo extinction and government policy.
Inherently, cities remain a site of dispossession, and the land on which city parks exist are no exception. Nahomi Amberer reminds us of the pre-existing relationship with land Indigenous people held prior to contact, and how this relationship was undermined by land dispossession by European settlers, including land used today for parks. "Dividing up land was central to claiming ownership of a land already inhabited by Indigenous Peoples," she wrote in last year's Canadian City Parks Report.
Indigenous Peoples continue to be reminded of these violent histories often; whether driving through the country or walking through an urban neighbourhood, place-names continue to honour colonial figureheads who played instrumental roles in the genocide against Indigenous populations. However, city spaces can also be a site of mass education. So, how do we create spaces that decentralize the colonial past and instead, promote Indigenous knowledges?
Over the past year, a handful of prairie city parks have taken steps towards decolonizing public spaces, making room for Indigenous histories in a way that hadn't been done before. This is a particularly important step for prairie cities that reflect some of the highest urban Indigenous populations across the country. Further, city parks moving towards the process of decolonizing space provides urban Indigenous folks access to nature and ceremony without the barrier of having to leave the city.
wiinibig (Ojibwe for muddy waters), Winnipeg
Take Winnipeg – Canada's largest urban Indigenous population – and the Indigenous Peoples Garden as a start. Anna Huard, Manager of Education and Programs at Assiniboine Park Conservancy described the Garden as a massive joint effort of community consultation, Matriarchs, Knowledge Keepers, Elders, and an Indigenous architecture firm.
"It's important that the consultation process on a project like this includes a lot of different connections," she said. "As soon as others were able to help out, it started to feel like a community. We cannot just rely on one Indigenous spokesperson."
Native plant species helped guide the Garden's development, and to further community inclusion, Indigenous youth also had a hand in planting trees and building boardwalks. The park includes fire and water nodes as well as interpretive signage that includes ancestral languages of Ojibway, Cree, Dakota, Oji-Cree, Michif, Dene and Inuktitut translations.
With last summer being the Garden's launch, Huard is ready to see the space used more frequently for youth storytelling programs, language learning, and an Indigenous plants program that includes a guided tour and salve-making classes. Most importantly, Huard noted that the space provides urban Indigenous folks the opportunity to strengthen their understanding of land and culture within city limits.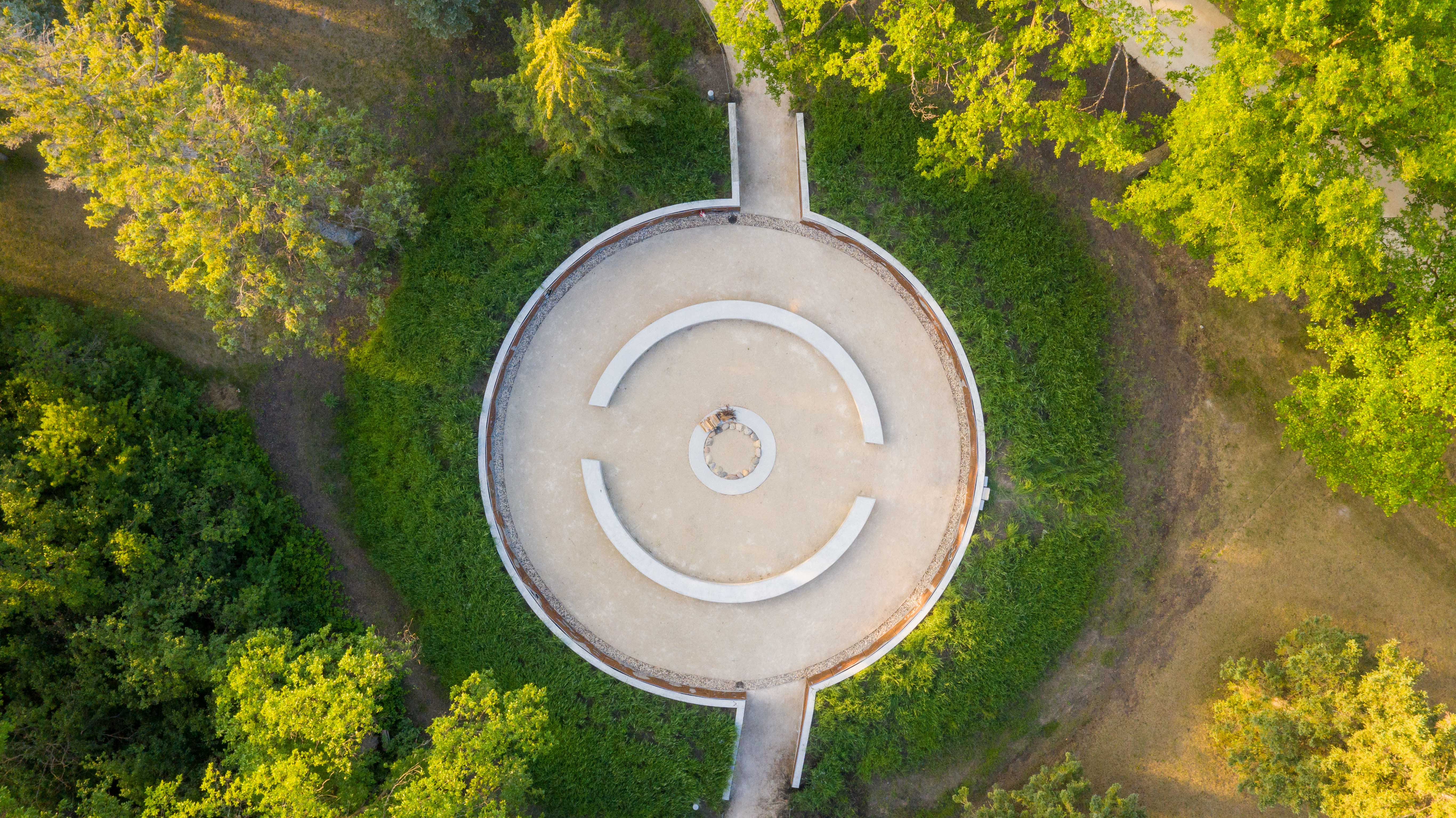 oskana kâ-asastêki (or more informally, Wascana, Cree for Pile of Bones), Regina
The city of Regina also experienced a big leap forward in decolonizing park spaces recently. Last year, the city finally caved to public pressure to relocate the Sir. John A. MacDonald statue in Victoria Park in downtown Regina. Although grassroots initiatives and petitions for the statue's removal have been circulating for a few years, the city's website stated that in March of 2021, city council approved the relocation of the statue to storage, "while Administration proceeds with broader public engagement and working with partners to identify an appropriate future location and contextualization."
Further, the Buffalo Peoples Art Institute (BPAI), a grassroots community organization driven by social justice in Regina, played a significant role in advocating for the name change of an inner-city public park. In spring of last year, the city officially changed Dewdney Park in the North Central neighbourhood to Buffalo Meadows Park due to ongoing pressure from organizations like BPAI and public community support. The city also voted in favor to change Dewdney Pool to Buffalo Meadows Pool. Edgar Dewdney was a colonial figure who administered and oversaw residential school policies and the starvation crisis faced by Indigenous Peoples in Canada.
Joely BigEagle-Kequahtooway, a member of the White Bear First Nation and a resident of Regina, said she started the Institute to help re-educate prairie learners about the significance of the buffalo's presence before its erasure. She explained that Regina, often referred to as 'Pile of Bones' because of its creation literally being built on the bones of buffalo, must acknowledge the original histories of the land. "This was buffalo land before colonization," she said.
Advocating for the name change started a few years ago, and eventually led to public awareness campaigns through community barbeques and petition signing. After enough signatures were collected, the grassroots group and their allies presented the petition to the city council and the civic naming committee. The city vote to rename the park was successful, but the BPAI is still waiting for the approval to change a major street name, Dewdney Avenue to Buffalo Avenue, as well.
The park's name change encourages a reconnection to the land and is crucial for Regina's north central community where many Indigenous people reside, BigEagle-Kequahtooway explained.
"Even in an urban setting, our environment should reflect who we are as a community," she said. "We need to determine whether the legacies of [colonial figures] are something we want to emulate or preserve for the future, and further question whether those names play a role moving forward in the spirit of Truth and Reconciliation."
BPAI plans to continue to bring awareness to the buffalo's history on the plains through public art installations, courses on preparing buffalo hides, and hosting an annual buffalo festival all in the newly named park.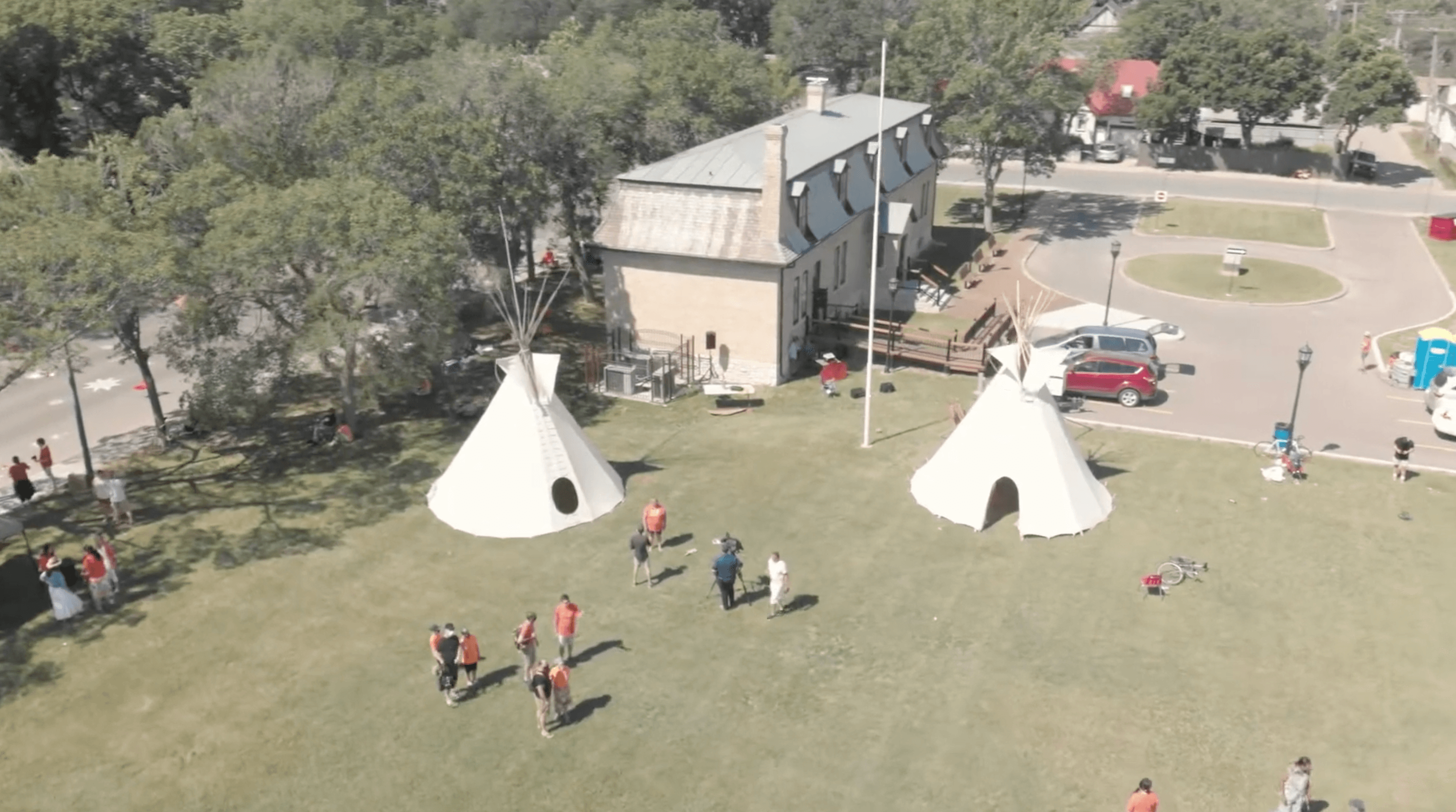 amiskwaciwâskahikan (Cree for Beaver Hill House), Edmonton
The city of Edmonton also had a big year for centering Indigenous knowledges in parks as construction on the kihciy askiy park (Cree for Sacred Land) started in Whitemud Park last year.
The park has been 15 years in the making after the city received a proposal from the Indigenous Elders Cultural Resource Society outlining an urban cultural site where Indigenous people could practice cultural ceremony and learning opportunities. Although long overdue, the city's website acknowledges that "long before becoming farmland, the kihciy askiy site was used for many centuries by the Indigenous people foraging for medicines for healing purposes."
After forming a Counsel of Elders in 2015 to work alongside a city project team, the city followed cultural leadership throughout the park's entire design process. Alongside consultation from Elders and Knowledge Keepers, the city has also called upon the Truth and Reconciliation Commission's Calls to Action, the MMIWG Calls for Justice, and United Nations Declaration on the Rights of Indigenous Peoples to help guide the work.
"Consistent with Indigenous culture of respecting the land, the project is designed to be completely synchronized within its location in the Edmonton River Valley," Chelsea Burden, City of Edmonton's Project Manager shared. With this in mind, the city also conducted an Environmental Impact Assessment to ensure the construction of the site results in minimal destruction to native plant and tree species along the River Valley.
The park's development plans include spaces for ceremony and sweats, the opportunity to grow medicinal native species plants, and the infrastructure to host culture camps and talking circles. The park plans to officially open in early 2023.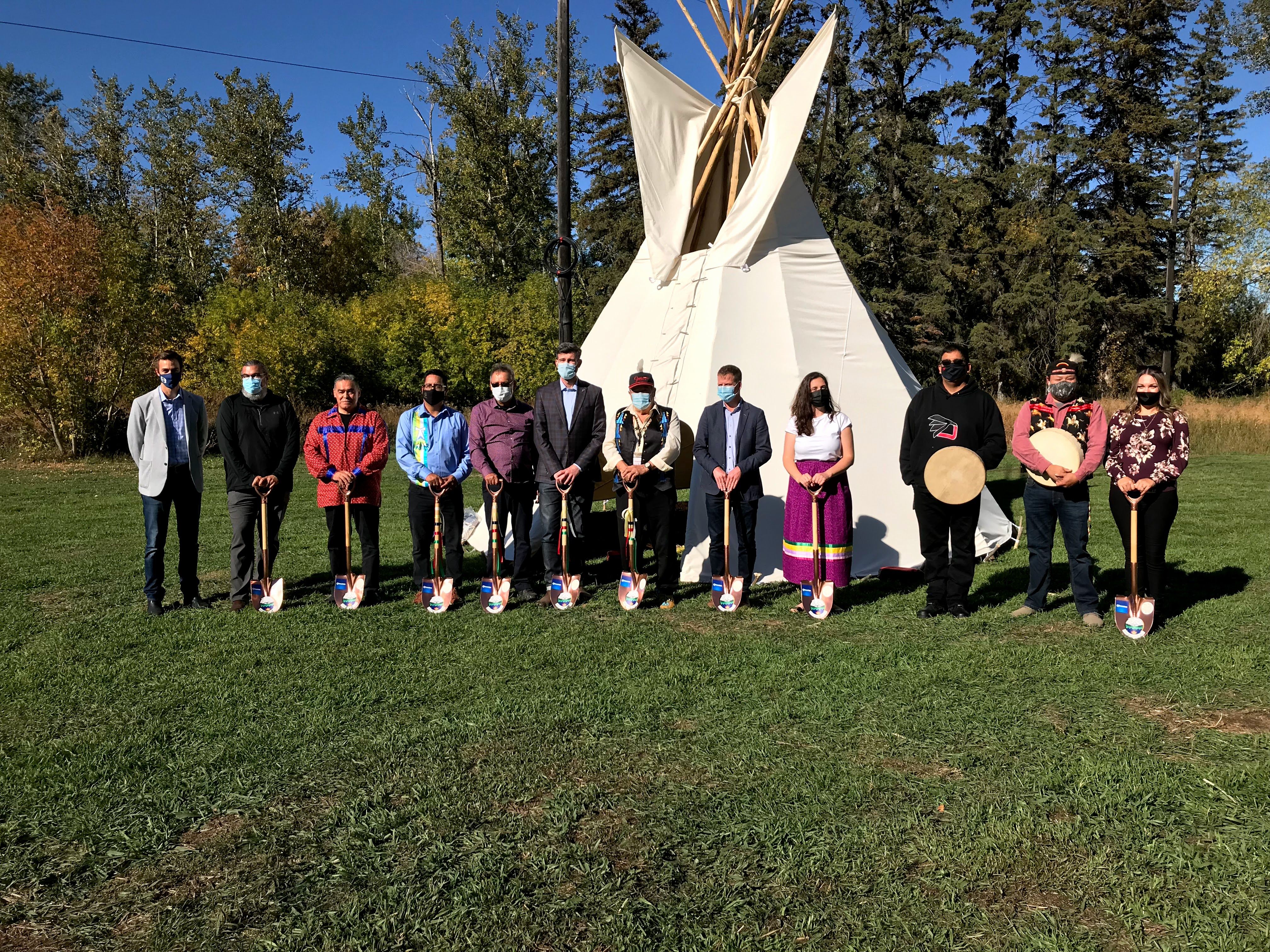 The path forward
As more graves continue to be uncovered, the urgency to recognize Indigenous history and presence must be prioritized. Acknowledging that colonialism continues to have a devastating impact while actively making changes led by the Indigenous community with ancestral ties to the land are two processes that can and should happen in tandem.
For example, in January of 2022, Vancouver's Park Board chair Stuart McKinnon presented a motion that calls for the co-management of city parks that fall under the traditional territory of the Musqueam, Squamish, and Tsleil-Waututh nations. "I think it's important as we recognize reconciliation in this country, that the land Vancouver sits on was occupied land," McKinnon shared in a CBC article.
There is still plenty of work left to undo the colonial violence of the past, and governments at the municipal, provincial and federal level should actively engage in meaningful Indigenous consultation to lead the creation of cultural learning spaces in city parks as a starting point. In order to achieve successful consultation, engagement strategies must build authentic relationships with multiple Indigenous community members and respectfully make space for varying Indigenous worldviews. Further, municipalities must acknowledge that empowering Indigenous community members to lead educational programming, park signage, language camps, and plant/medicine gardens also empowers the community as a whole.
Doing so promotes a way forward that allows urban Indigenous presence to access aspects of ceremony and tradition, and in turn, allows non-Indigenous people to learn more about the original stewards of the lands they occupy.
And perhaps above all, working alongside one another in mutual respect is one way to honour the spirit in which Treaty relationships were built upon.