Indigenous plants have the right to exist in urban spaces, just as Indigenous people have the right to exist in cities built on Indigenous land. Plants are part of a greater kinship between human and non-human beings and parks can support this connection.
87% of survey respondents are in favor of returning to a more naturalized, native plant species biodiversity within parks. This makes sense given that Indigenous plants often require less maintenance, improve carbon retention, and lessen flooding and other effects of climate change.
Prioritizing Indigenous plants must include building and expanding relationships with Indigenous Peoples and educating all people about the land we share, including the specific history of cities.
History of city parks in Canada
Cities in Canada are all built on Indigenous lands, and often on historic places of trade, ceremony, and gathering.
Just like cities, urban parks were created through the removal and dispossession of Indigenous Peoples. The first parks in Canada were heavily influenced by the design of the English landscape and still today are most often designed without Indigenous influence or ideals. As Zapotec and Ch'orti Environmentalist Scientist Jessica Hernandez writes in her book Fresh Banana Leaves: Healing Landscapes Through Indigenous Science, "the construction of these metropolitan areas required our landscapes to be severely altered and heavily destroyed" (49).
In Canada, city parks gained popularity as a means of preventing the malaise of an urban life disconnected from nature. Ironically, early urban parks had little to do with the generally accepted understanding of nature, which is a material world separate from human influence that is to be preserved.
I do not know of a word in my language, nêhiyawêwin, that would easily translate to the Western understanding of nature. In fact, if you look up this word in our dictionary, the term that comes up directly translates to "the land from which we originate." This land includes the water, plants, fungus, animals, insects, and us. Nôhkom Jo-Ann Saddleback often speaks to me about the complexity of technology that we as original peoples had in order to maintain paradise, to keep things in balance. This required complex systems and a deep understanding of plants as our kin.
Plants are part of the settler colonial project
Settler colonialism is about the transplant of another society onto Indigenous lands and operates on the logic of the elimination of the native. Part of the elimination of the native includes the elimination of Indigenous plants, which are inextricably connected to the operation of Indigenous societies and lifeways.
First Nations people were moved onto reserves in order to open up the land for settlement, while intergenerational knowledge transfer about plants and medicines was interrupted through the removal of children, which was also a means of damaging our traditional governance systems.
The rights of Indigenous plants
Just as Indigenous people have the right to live in cities built on our territories, Indigenous plants have the right to exist and thrive in urban environments.
Indigenous knowledge has the potential to improve urban design, governance, and the quality of urban design, including the biodiversity of parks, as long as Indigenous people have the opportunity to fully participate in city planning and governance. Indigenous plants may improve carbon retention, prevent flooding, and require less maintenance, but these are not the sole reasons we should support the growth of Indigenous plants in urban parks.
If we shift our understanding to the rights of these beings rather than just the ecological benefits of native plants, we begin to work towards repairing kinship with the land and with each other. However, we cannot prioritize Indigenous plants for the purpose of biodiversity without engaging fulsomely with Indigenous rights and the Land Back movement. Removing encampments of houseless Indigenous people from parks that are planted with Indigenous plants is not a reparation of kinship. We know Indigenous people disproportionately experience houselessness in Canada, with Indigenous people more than ten times more likely to be houseless. Native people and plants both belong.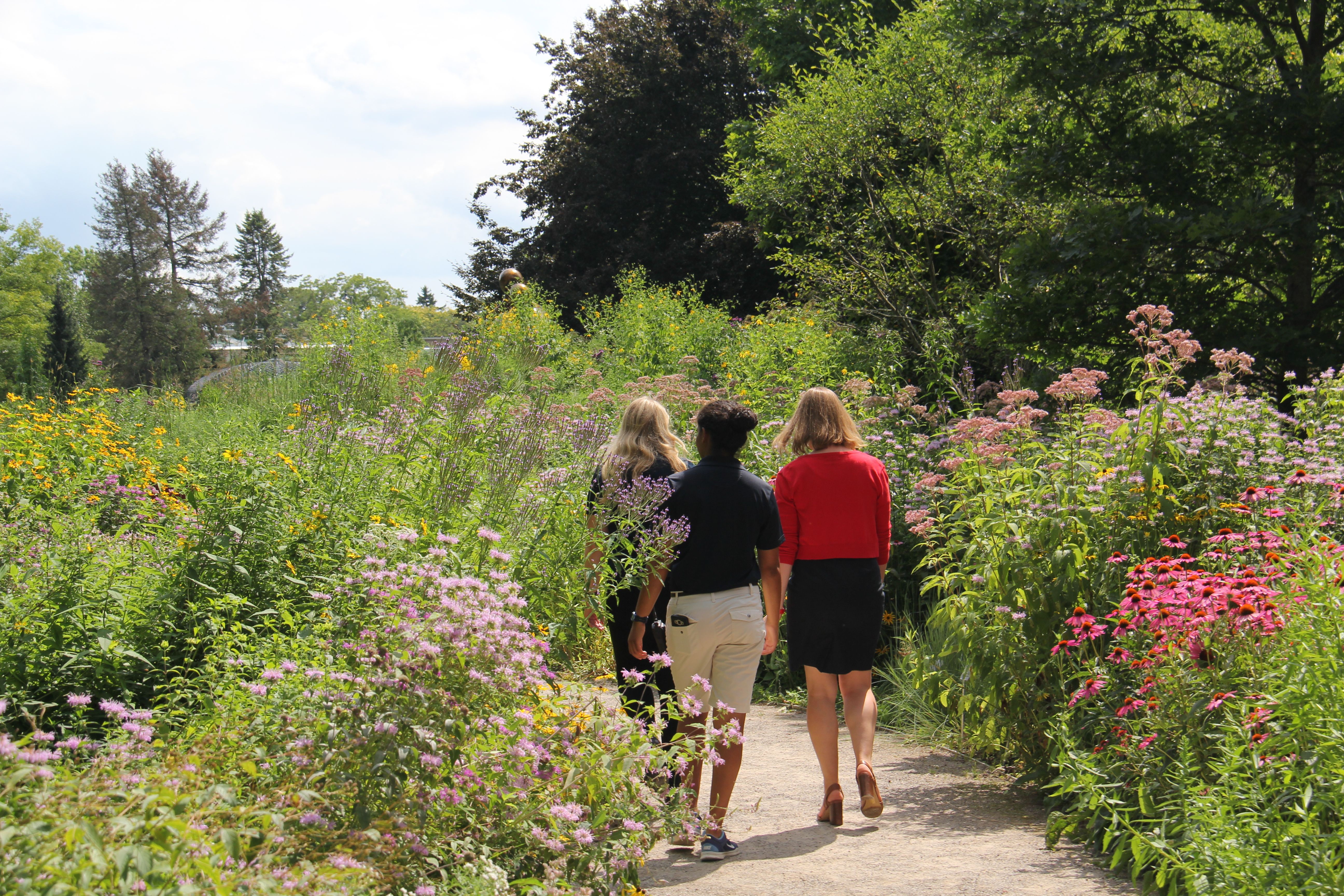 Prioritizing Indigenous plants in city parks
There are a number of cities in Canada that are now working towards the prioritization of Indigenous plants, though it is clear there is more work to be done to ensure this happens in collaboration with Indigenous Peoples, in particular Elders, Knowledge Keepers, and rights-holders.
Indigenous sovereignty advocate, writer, and artist Xicotencatl Maher Lopez reminds us that "we should remember that we shouldn't pan-Indigenize while trying to find solutions for ourselves in urban centers."
In Kelowna, which is Syilx Territory, the city has signed Memoranda of Understanding with the Westbank First Nation and the Okanagan Indian Band, to embed local First Nations representatives early within park project teams. However, when asked about whether the development of the new Pandosy Waterfront Park involved these two First Nations or prioritized Indigenous plants, a representative from the City of Kelowna said the plant palette did not focus on 'traditional' First Nations planting, though there are native plants included in the plan. They were not clear if there was collaboration with the local First Nations that have MOUs with the city.
In Calgary, parks and open spaces are being naturalized through the reintroduction of native plant species as the City takes actions toward meeting a key biodiversity goal of restoring 20% of its open spaces by 2025. In Kitchener, they are working to replace non-native grass species with low-mow native pollinator species.
It remains clear, however, that despite action plans for native plants and agreements to consult, more work needs to be done to move toward Indigenous governance, stewardship, and land repatriation within parks.
How to go about this work
In order to do this work, cities must create and maintain relationships with rights-holders and urban Indigenous people. It is also important that Indigenous people are able to maintain their relationships with these plants and spaces, meaning that harvesting is allowed in urban parks—from tapping maple trees to picking rosehips.
Sometimes this work requires conservation rather than restoration. For example, Fredericton, which is Wolastoqiyik (Maliseet), Mi'kmaq and Peskotomuhkati (Passamaquoddy) Territory has two parks with old growth hemlocks, some of which are over 400 years old, which the city has committed to preserving. Wolastoqey, Mi'kmaq, Mohawk and Korean Elder Cecelia Brooks and son Anthony lead tours to share their knowledge about these trees along with their use as medicines, food, and in ceremony. Elder Cecelia Brooks has dedicated her lifetime to the preservation of Indigenous plants and knowledge.
When asked about how cities could support the conservation and resurgence of Indigenous plants, Elder Cecelia Brooks stated,
"I think the first step to supporting conservation and resurgence of Indigenous plants is to determine what is already present in the landscape."
She suggested this work be completed by engaging with local Indigenous communities through conducting a survey of plant populations within parks with local botany students. This survey can then be part of an overall conservation plan, which would also determine areas that would be ideal habitats for particular plants that are Indigenous to the territory. She shared that "there may be areas with very sensitive plants that may even require closing off to the public at least until the population recovers and perhaps even creating new areas for the sensitive plants to thrive."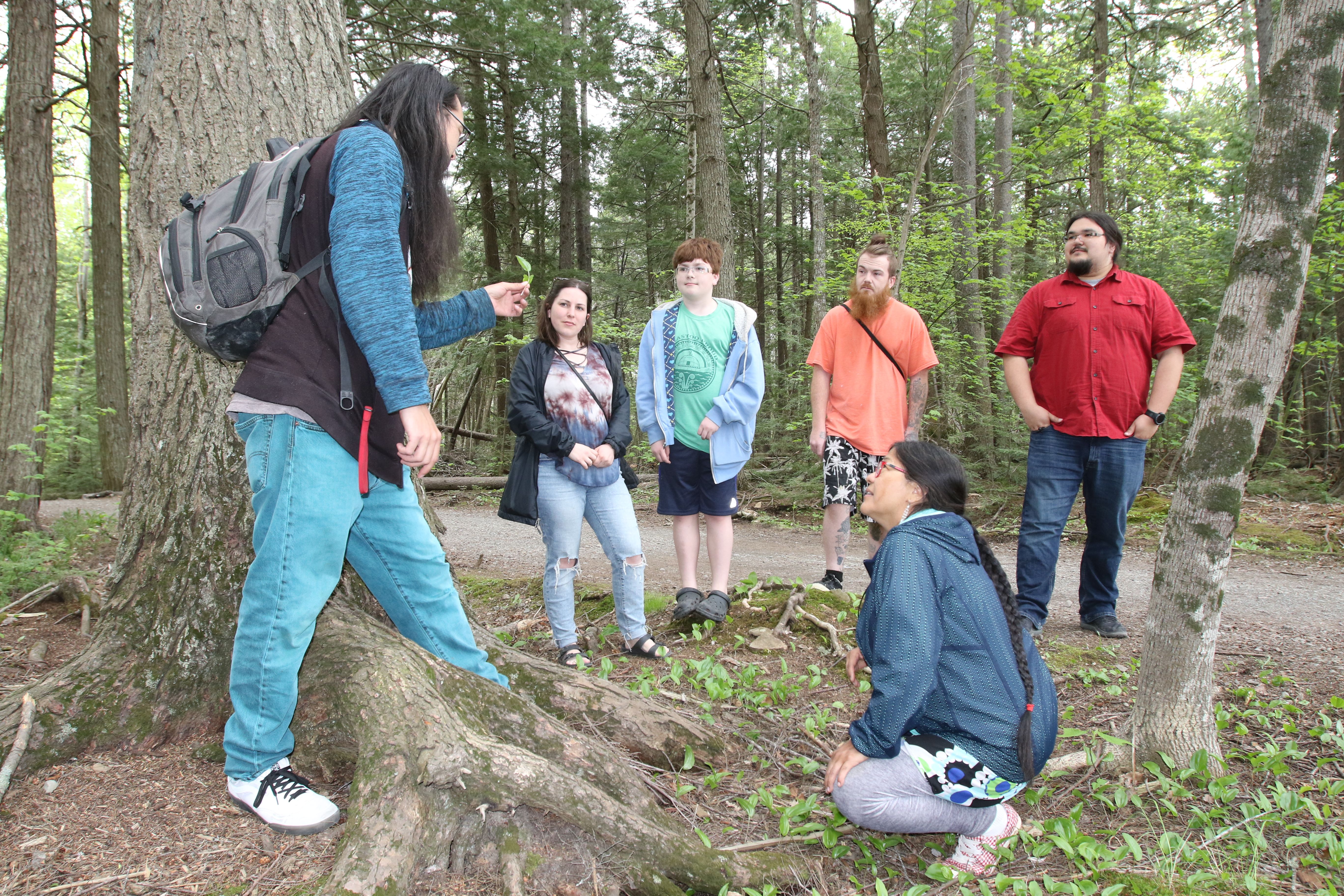 Work with Indigenous plants must mean work with Indigenous Peoples
This work of conservation and restoration must honour Indigenous knowledge, rather than purely western knowledge about Indigenous plants. In Dr. Jessica Hernandez' book Fresh Banana Leaves: Healing Indigenous Landscapes through Indigenous Science, she writes about a "bottom-up approach" to conservation, which "allows conservation initiatives and projects to come from within the community."
This must include a respect for Indigenous sovereignty, a willingness to learn protocols from the specific Indigenous communities you are working with, and an understanding that this work may not be linear as Indigenous Peoples are recovering from genocide and may be constantly adjusting priorities.
An example of this is the kihciy askiy site in Edmonton, which is Treaty 6 Territory and in the Homeland of the Métis Nation. kihciy askiy is an urban ceremonial site in a city park, which is steered by Elders and Knowledge Keepers. According to Chelsea Burden, who is a Project Manager for Facility Infrastructure Delivery at the City of Edmonton, all plants on site are Indigenous to the area and were chosen for ceremonial, educational, and practical purposes.
There are many native plant societies throughout Canada that focus on the conservation and restoration of Indigenous plants without engaging with Indigenous Peoples or knowledges. I am not suggesting that cities begin to prioritize Indigenous plants in urban parks without the renewal and maintenance of relationships with Indigenous Nations and Peoples. If a city is within a treaty territory, municipalities should learn what living together under that agreement should ideally look like.
How can municipalities work towards the repatriation of land and resources so that Indigenous Nations can begin to restore our governance systems, languages, and cultures? Can the restoration and conservation of Indigenous plants in partnership with Indigenous Peoples act as a microcosm of kinship reparation?