Participatory budgeting involves directly engaging residents in voting on public space improvements, revealing community priorities that may differ from those of elected officials.
Community grants often require cities to rethink municipal processes and build an internal culture of support to say "yes" to creative projects.
The federal government's recent investments in the National Urban Parks Program and Healthy Communities Initiative have opened up new avenues for collaboration with municipalities and community organizations.
Engage directly through participatory budgeting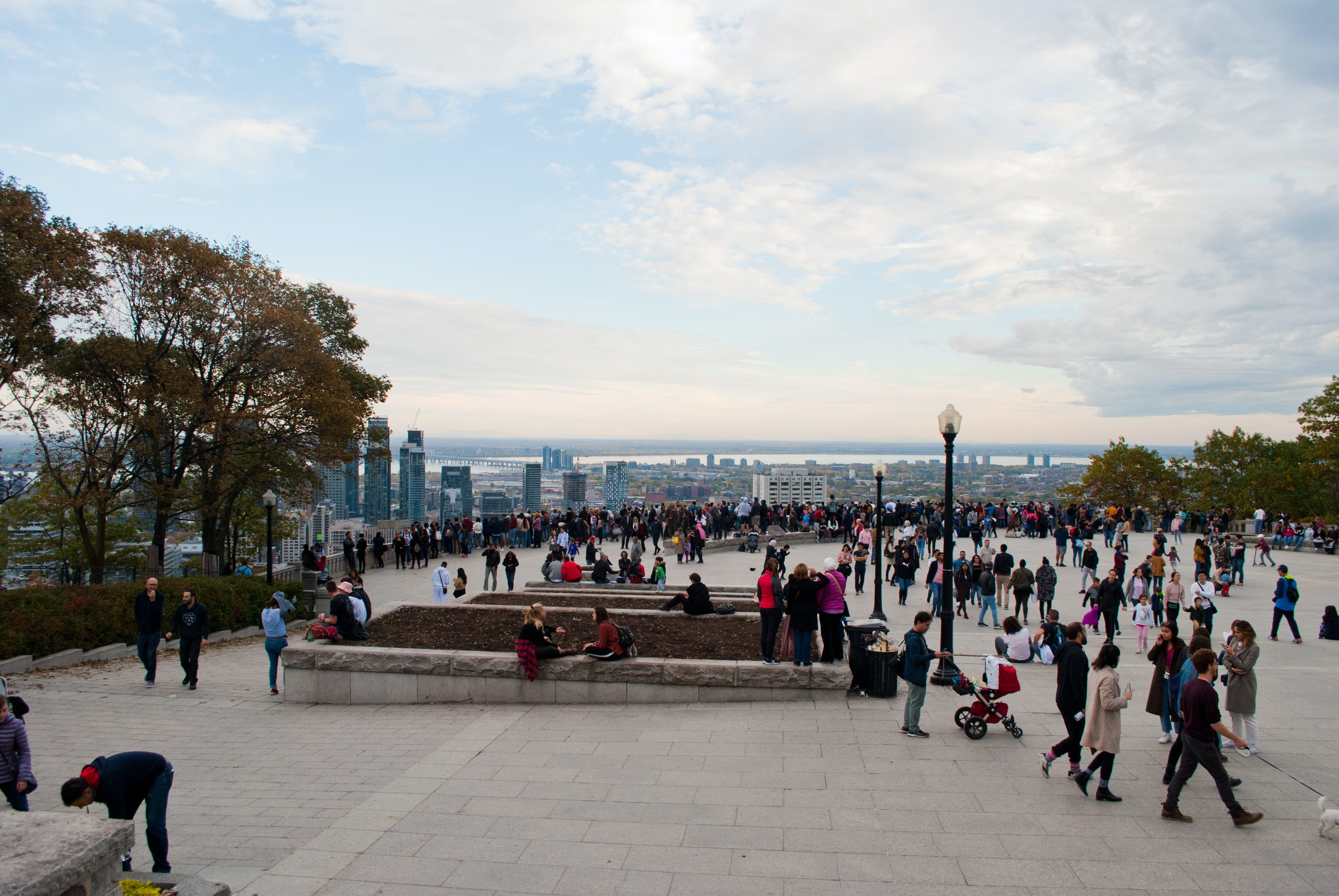 While municipalities offer multiple ways for residents to get involved in budgets through town halls, surveys, and other activities, it's often unclear how community input influences final decisions. Proponents of participatory budgeting hope to change that by providing a direct route for residents to make funding decisions.
Toronto, Kitchener, and Longueuil have piloted participatory budgeting processes in the past. On the positive side, participatory budgeting was found to promote higher rates of participation than traditional park engagement, but it also raised concerns about the potential to foster a competitive atmosphere among community members.
How to devise a transparent, fair, and inclusive participatory budgeting process is something Isabelle Gaudette has thought a lot about. Gaudette is the Coordinator for Participatory Processes for the Centre d'écologie urbaine de Montréal, which worked with the City of Montreal to devise and run its $10-million participatory budgeting program in 2021.
The city received 620 submissions from the public, which were whittled down based on feasibility to a final 35 that people voted on in June 2021. Projects had to be between $500,000 and $3 million, take place on city property, and "contribute to Montreal's ecological and social transition" by addressing climate change, biodiversity, equity, or sustainable resource consumption. Montreal is continuing the program, Gaudette said, setting aside a budget of $60 million over the next three years.
The voting age was set to those above 12 years old and the process also allowed non-citizens to vote—in fact, approximately a quarter of those who voted were youth and non-citizens, Gaudette said. Voter turn-out met the project team's goal of 1% of the population. While that may seem small, she said, it represents 20,000 people directly voting on budget decisions that are usually left to a handful of elected officials and city staff.
Participatory budgeting also shows how the priorities of the public may differ from those of city officials, Gaudette said. The seven winning projects included mini forests, urban agriculture, green laneways, and more. But the second most voted on improvement was adding 125 water fountains and filling stations to parks in six boroughs. "I don't think that the professionals, the elected officials, would have said: "we are going to put drinking fountains in each park". It seems basic, but that's what people chose. It is a basic need," she said.
Gaudette's advice for participatory budgeting:
Set up a community steering committee to weigh in on the process, align with community needs, and evaluate the outcome to improve processes for next time.
Ensure projects benefit multiple parks to avoid making the process a contest between different neighbourhoods where people vote simply for the improvements closest to them.
Dedicate a portion of the overall budget to engagement as participatory budgeting processes require a lot of on-the-ground work to mobilize voters, particularly from equity-deserving and underrepresented groups, such as newcomers and youth.
Account for operating costs for maintenance once projects are built to ensure there is adequate ongoing funding beyond the capital funds participatory budgeting provides.
Get creative with community grants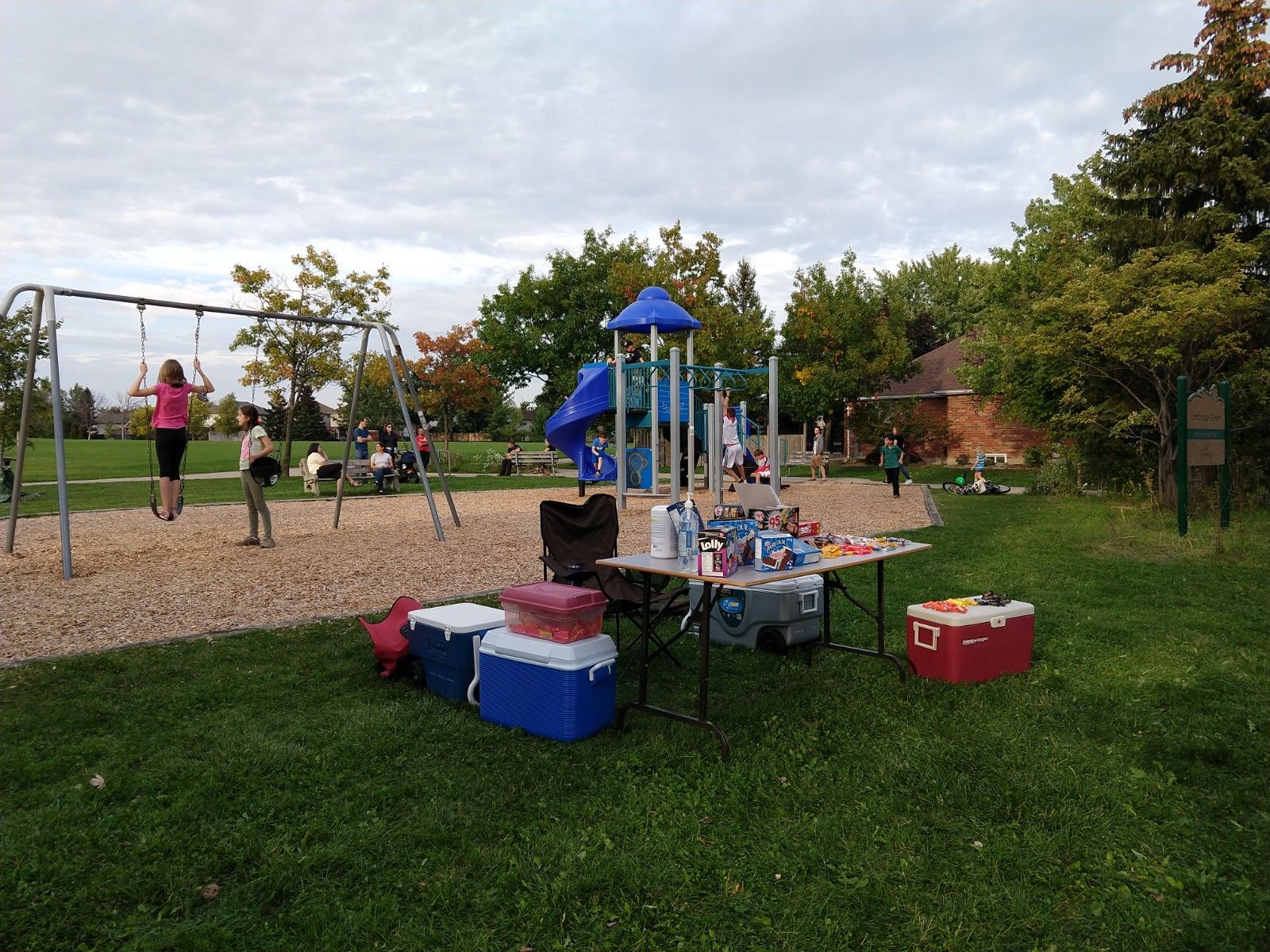 Most Canadian cities offer a grant or matching fund program for residents who want to undertake public space projects, ranging from small events to larger infrastructure projects.
However, many of these grant programs were thrown into uncertainty when park amenities were closed or restricted due to Covid and public health guidelines discouraged gathering.
Recognizing this, the City of Waterloo introduced temporary changes to some of its community grants. This included more flexibility in how funds could be used (for example, buying personal protective equipment for volunteers), reducing matching fund requirements in recognition that volunteer hours may be more difficult to contribute, and encouraging projects that addressed public health, community well-being, and social isolation.
Waterloo city staff said that these "changes were an important step to help remove barriers and to encourage unique and safe ways for the community to lead opportunities for connection." Projects funded through the Neighbourhood Matching Fund included additional park seating, community message boards, and expanding community gardens. A mini-grant providing up to $300 also supported small-scale park events such as an ice cream social with rapid test pop-up.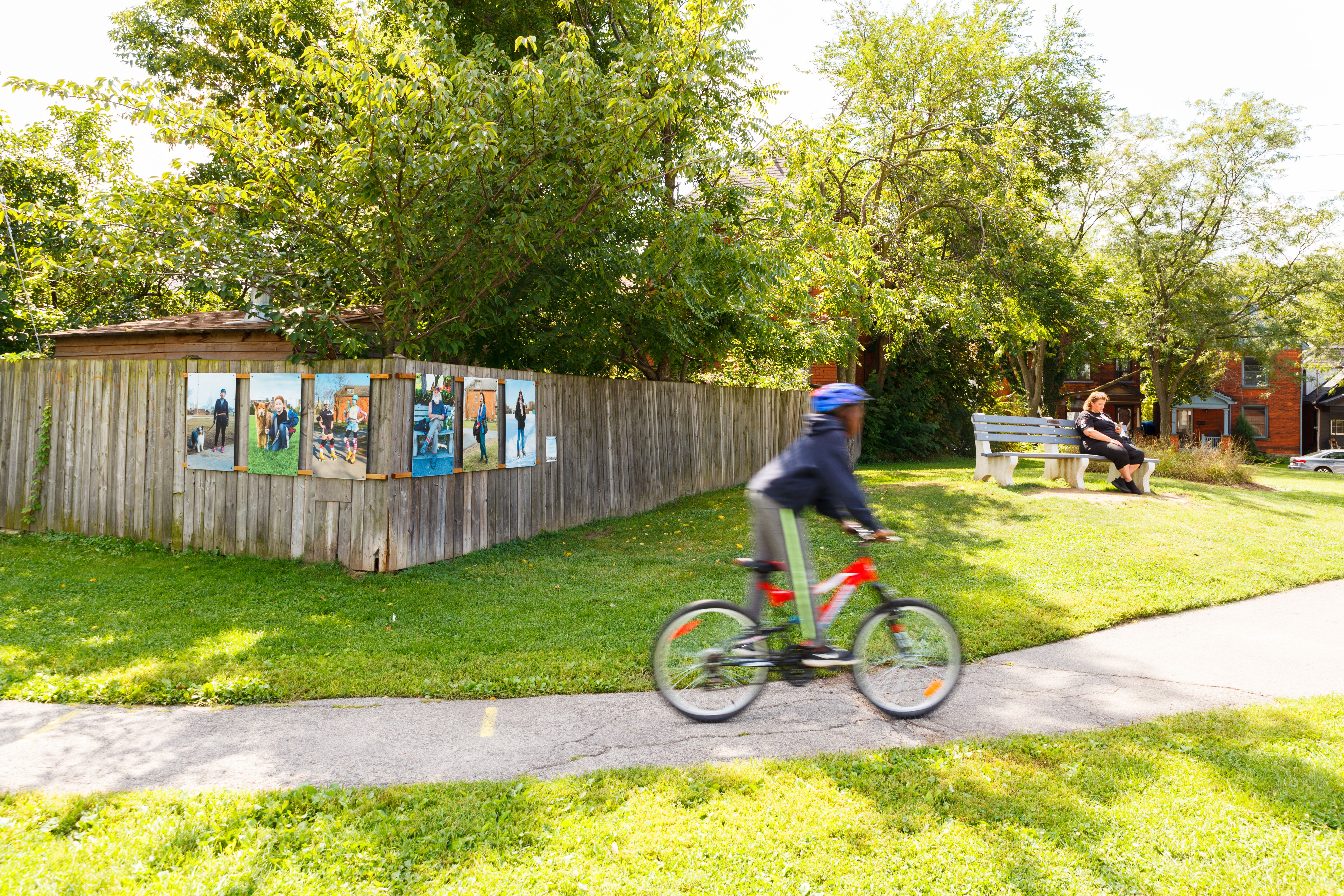 In Hamilton, the city is testing a new approach with its Placemaking Grant pilot program. Made possible by a $100,000 donation by the Patrick J. McNally Charitable Foundation, Program Manager Sarah Ehmke said it specializes in "creative, temporary ways of activating public spaces."
While conceived pre-Covid, Ehmke said the pandemic only made the program's goals more relevant as people looked to engage in outdoor spaces. While the city only had funding for 10 to 12 projects, Ehmke spoke with 50 people proposing ideas. "A number of the proposals that we received…were directly in response to people's experiences during Covid in public spaces," she said.
One project in Hamilton Amateur Athletic Association Park included a local photographer who had taken photos (with permission) of people using the park in various ways during the pandemic. The grant funded a photo gallery in the park "to show the different ways people have been using the park during Covid," Ehmke said. Photos showed dog walkers, kids playing, and people using park infrastructure as an outdoor gym.
To ensure projects were community- and equity-focused, the city encouraged applicants to propose projects in their own neighbourhoods and demonstrate partnerships to make sure the group had "considered the needs and wants and uses of public spaces beyond their own use."
Ehmke's advice for community grants:
Use a two-phase application process that asks for an expression of interest first. This allows for back-and-forth between the applicant and city staff to ensure proposed ideas are technically feasible and meet requirements before applicants put in the work of a full application.
Include an operating fund for projects to offset city fees, such as sign permits, which can eat up too much of a small project budget. Waiving these fees entirely can be complicated because they often come from other department's budgets.
Build in time for internal city staff discussions since project proposals may require new ideas that current city processes don't allow. Making time for this discussion is "where we can get projects to yes versus no," Ehmke said.
Promoting the temporary nature of projects is another way to "get to yes," but it also "gives some freedom to the community to be able to come up with projects that might work for now but don't have to work forever," Ehmke said.
New possibilities with federal investment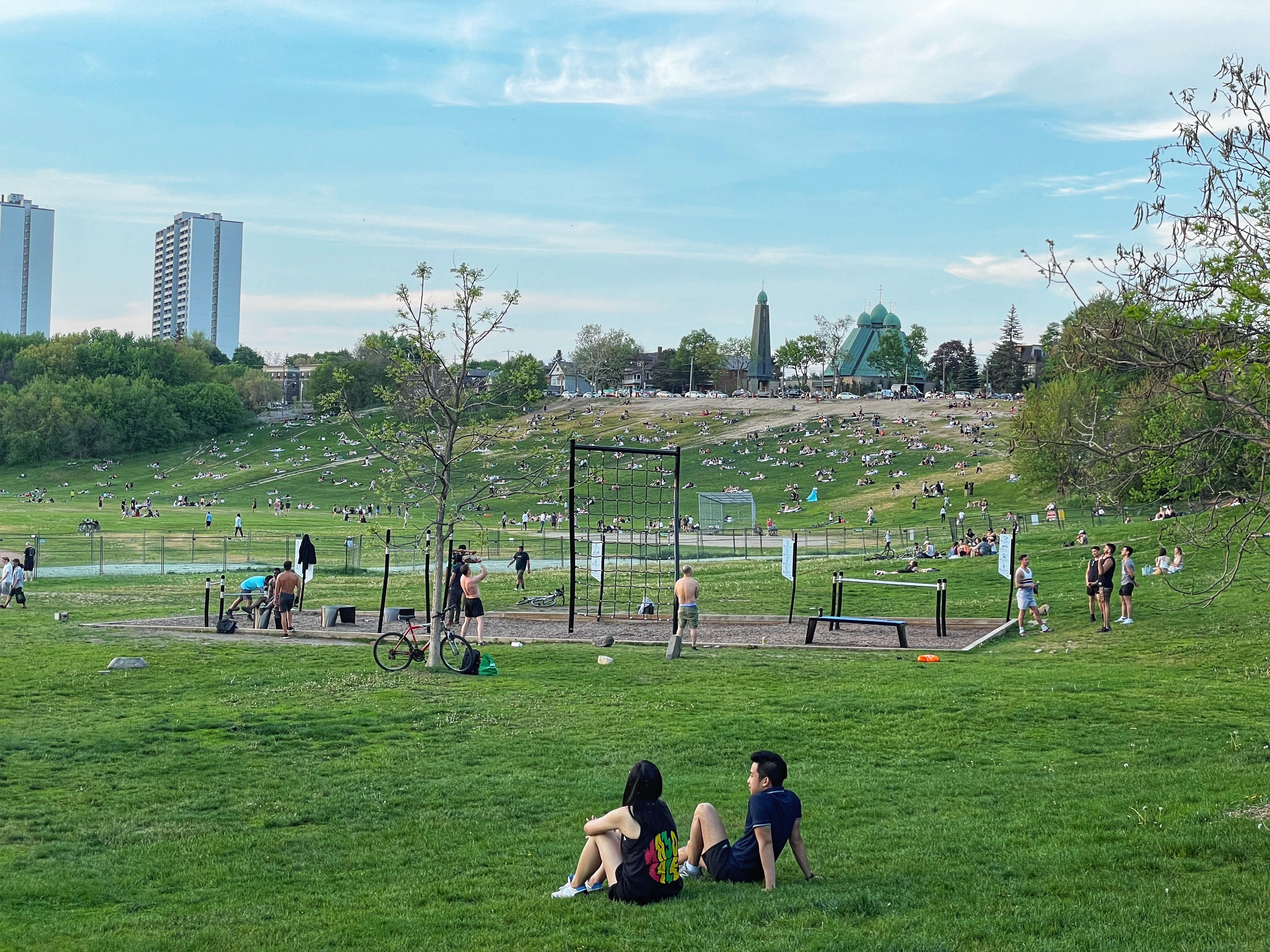 While the federal government doesn't have a long history of investing in city parks, two new funding initiatives have opened up new opportunities for collaboration.
National Urban Parks Program
While still in development, in 2021 the federal government announced a $130 million commitment over five years for Parks Canada to develop a National Urban Parks Program. This follows the federal government's investment in 2012 to create the Greater Toronto Area's Rouge National Urban Park.
"Urban parks represent the next evolution for Parks Canada, which has a long history of over 110 years of establishing national parks, national historic sites, and national marine conservation areas," said Parks Canada Director of Urban Parks and Ecological Corridors Miriam Padolsky.
The new program, which the government views as part of its goal to conserve 25% of land and inland waters by 2025, will see Parks Canada work with governments, Indigenous partners, conservation organizations and other stakeholders to create or expand national urban parks in or near municipalities.
"National urban parks will offer a number of important benefits that align with Parks Canada priorities," Padolsky said. "Including protecting biodiversity, contributing to climate resilience, connecting people with nature, and supporting reconciliation with Indigenous populations."
Healthy Communities Initiative
The Healthy Communities Initiative was a federally funded program with a unique structure that provided funding to community-based organizations to "create and adapt public spaces to respond to the new realities of COVID-19." The $31-million program was managed by Community Foundations Canada (Park People was also a partner).
The program funded over 550 projects, but the demand was far greater. Over 6,000 applications were received, totalling $650 million in requested funding, showing how great a need there was—and is—for community-based public space funding.
Three quarters of the funding went to non-profits and charities, a point Community Foundations Canada emphasized in their final report: the initiative demonstrates "how small-scale innovations can have a big impact in communities to transform public spaces" and "how community-led infrastructure re-thinks social challenges and plays a critical role in providing innovative recovery solutions."
The program included an equity guidance document prepared by Jay Pitter Placemaking for prospective grantees. This document has proven useful for other city-led granting programs as well, with the City of Hamilton referring grantees to the document in their Placemaking Grant pilot described earlier.
When analyzing where grants went, Community Foundations Canada found that the communities most served by the initiative were "people experiencing low income or living in poverty, persons with disabilities, and newcomers."
The full list of projects can be viewed on a map, but included initiatives by
Crossroads Community Association to install accessible raised garden beds, seating, an edible food forest, and a natural playground in Calgary, AB to create "an outdoor hub where people can meet, learn, garden, play, eat and rest."
The Squamish Nation to build Sḵwx̱wú7mesh Community Gathering Gazebos to "provide safe and vibrant outdoor spaces for Squamish Nation families to regularly meet and continue learning about their language, arts and culture."
The Sharing Farm in Richmond, BC to grow vegetables in Terra Nova Park to donate to the Richmond Food Bank, while providing volunteer opportunities.
stɑl̓əw̓ Arts and Cultural Society to fund ten Indigenous artists to create public art works throughout Langley Township, BC that "capture key plants, animals and landscape features" along with videos sharing the design process.