Equity-deserving groups face disproportionate barriers to participating in park engagement processes. 48% of survey respondents who identified as racialized said they were unsure how to get involved in park planning processes, compared to 36% of those who identified as white.
Equitable engagement strategies include incorporating a pre-engagement phase to build relationships, providing opportunities for small group discussions, and entrusting communities to design engagement activities themselves.
Cities are increasingly prioritizing equity-based engagement, but may need to adapt their own policies and protocols to remove internal barriers to this work.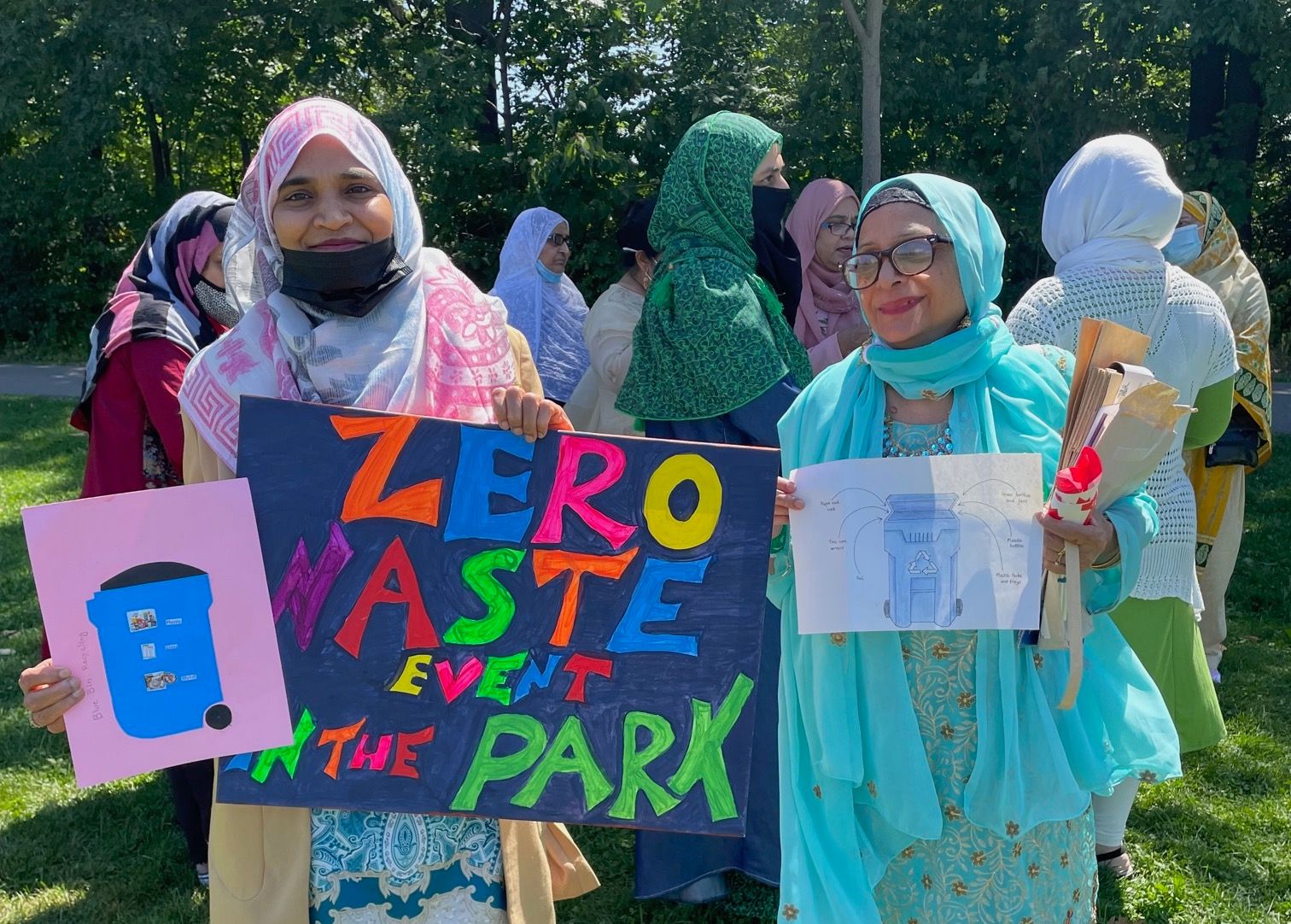 Park engagement has been transformed by the pandemic. In our survey, 92% of cities said Covid has changed how they engage communities, and 23% said engagement has become a greater priority since the start of the pandemic.
As we've written elsewhere in the Canadian City Parks Report, it's not just the format of engagement that has changed as cities shift from in-person to online methods. Cities are also sharpening their focus on building relationships with groups that have historically been left out, with 35% reporting that the pandemic has prompted more intentional outreach to equity-deserving groups.
As city staff in Guelph told us, "there is new awareness about systemic inequity" and "creating equity in our park system means talking with those most affected."
This work is needed. Our public survey showed that equity-deserving groups face disproportionate barriers to participating in city-led park planning processes. Overall, the top three barriers respondents cited were: being unsure of how to get involved (36%), unsure if their participation would make a difference (31%), and not having enough time to participate (28%). These percentages were higher for respondents who identified as Black, Indigenous or a person of colour (BIPOC), at 48%, 35%, and 36%, respectively.
Cities and community groups across the country are responding to these barriers through creative methods that put equity at the fore.
Shifting power through play

It is vital to involve communities in deciding what the engagement process looks like, said Jennifer Chan, Co-founder and CEO of the Department of Imaginary Affairs (DIA). Last summer, the organization led a project called A Tale of Two Parks to surface stories of safe and unsafe experiences that exist at the same park. Through the project, six racialized youth were hired as Social Researchers to engage park goers, especially BIPOC communities, in two Toronto parks.
Through conversations with community members at the park, the DIA team learned that park goers often have great ideas for changes they'd like to see, but community members often felt that "it doesn't really matter what our ideas are, since the city doesn't care about us" Chan said.
"This statement really struck me in thinking about, how can we meaningfully engage with community when the starting perspective is that 'the city doesn't care about us?'"
In response, the DIA designed a participatory planning game called "What if Parks Were Designed By Us?" The game allows participants to experience and define a months-long planning process in a matter of minutes. It invites community members to work together to develop their own planning process, strengthening their ability as a community to identify issues, build a unified vision, and even practice dealing with monkey wrenches getting thrown into their plan.
By gamifying the planning process, DIA aims to reduce barriers to existing planning processes as well envision new possibilities for park engagement, shifting away from traditional mechanisms like town halls "where all the power is held by the city, not with the community," Chan said.
Keep tabs on who is (not) at the table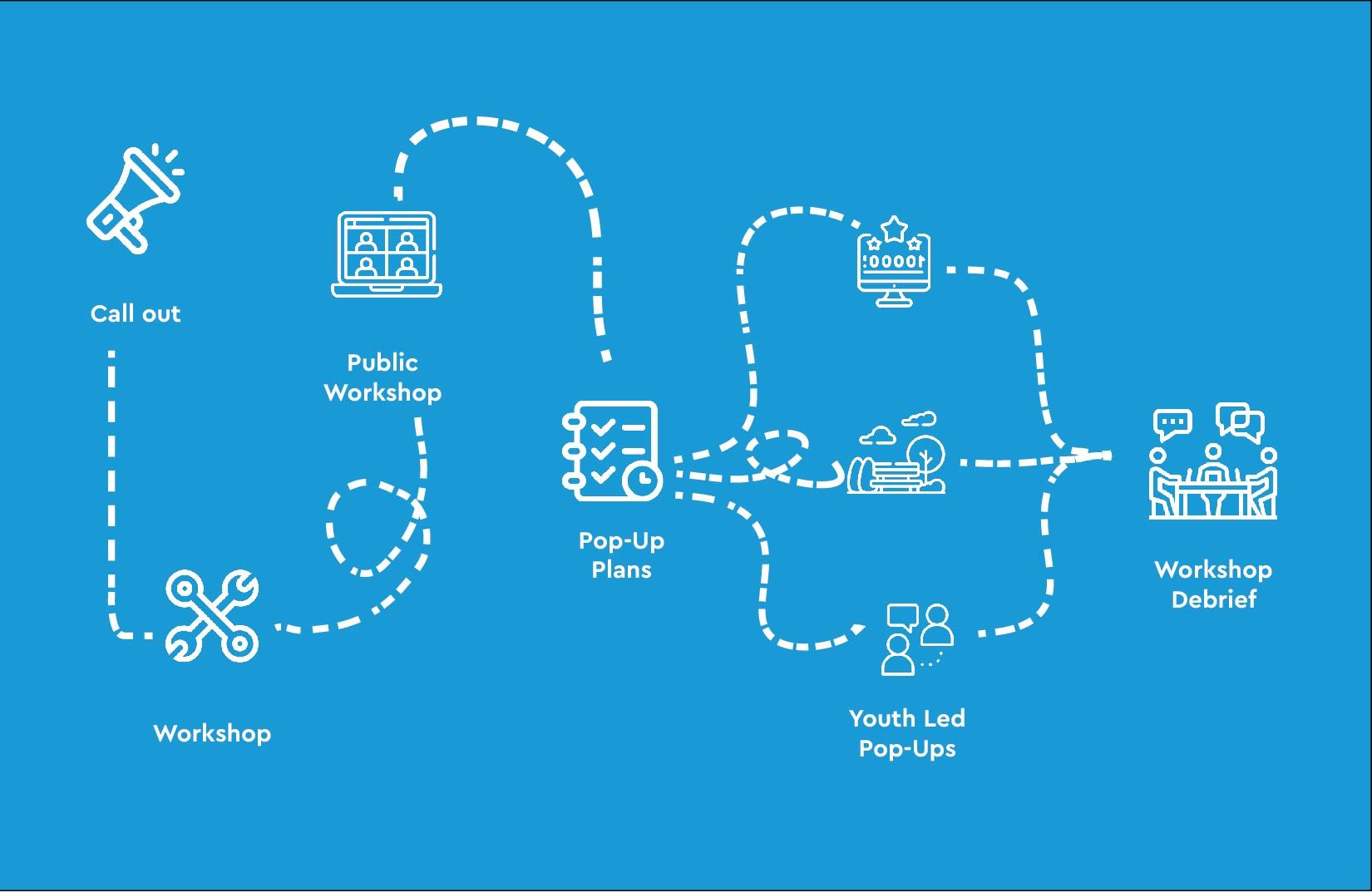 The City of Toronto has been engaging residents for the Toronto Island Park Master Plan since 2020, which will set out a new vision for a beloved destination park accessible by ferry just minutes from downtown. It's a signature project that involves many stakeholders, as the Island is meant to serve all Torontonians.
A key priority for the engagement team is embedding an equity lens throughout the process. "Equity really is framed by identifying who is and who isn't at the table," said Daniel Fusca, the city's Manager of Consultation for Parks, Forestry and Recreation.
The process started with a pre-engagement phase—a new approach for the division. This involved meeting with relevant community organizations, Indigenous partners, and other departments within the city, to get a sense of their priorities and determine how they wanted to be involved.
The pre-engagement phase "goes against most people's instincts of what is appropriate engagement," Fusca said. There's an expectation, rooted in conventional engagement practices, to "put something in front of the public for them to react to or else it's a waste of their time."
"It took a bit of work to convince everybody that this is actually a good idea," Fusca said. "There's a bit of getting people out of their comfort zone."
The pre-engagement with the Mississaugas of the Credit First Nation (MCFN) and other Indigenous partners was especially vital given the significance of the Islands as a sacred place of healing and ceremony. Through these conversations, the city heard about the importance of incorporating ceremony into the engagement events, and re-working their land acknowledgment to recognize the waters as well as the lands.
They also heard that each Indigenous partner had different collaboration preferences. Some rights holders preferred regular meetings with the city. For the urban Indigenous communities, they've held sharing circles during each phase which are led by an Indigenous facilitator—something the community identified as important.
Lori Ellis, Project Officer of Strategic Projects, acknowledged that the pre-engagement took time and required them to adjust their original scope of work. "But it's worth its weight in gold in regards to building that foundation of trust and transparency," she said, noting that the city is now looking to incorporate a pre-engagement phase into future projects.
It's also laid a foundation for ongoing collaboration with different communities to share back how their input has been used. The project team has tried to make these touchpoints meaningful by tailoring them to the community's specific interests and input, Fusca said. "We would hone in the presentation to just focus on the things that were most meaningful to them and try to reflect back anything they told us," he shared.
Constantly scanning to "identify the key voices that are still missing, and to do our best to address that" has been another strategy at the heart of the city's approach, Fusca said. For example, after identifying that youth and racialized communities living outside of the downtown core were underrepresented in the first phase of engagement, they developed a Youth Ambassador Program.
The program hired a team of 10 youth between the ages of 15 to 27 who collectively spoke nine different languages and lived in neighbourhoods outside of the downtown core. They were provided with training and a budget to design their own outreach program to engage their communities.
Pablo Muñoz, a Senior Public Consultation Coordinator for the city who has previous experience as a youth worker, noted the important role youth play as conduits of information to and from the community. "For a lot of immigrant and refugee families, children and youth tend to be the connection to the Canadian English-speaking world. They tend to be the translators, and in many ways, have a big leadership role," he said. This is a finding echoed in recent Park People research that explored barriers to park engagement in Vancouver's equity-deserving neighbourhoods.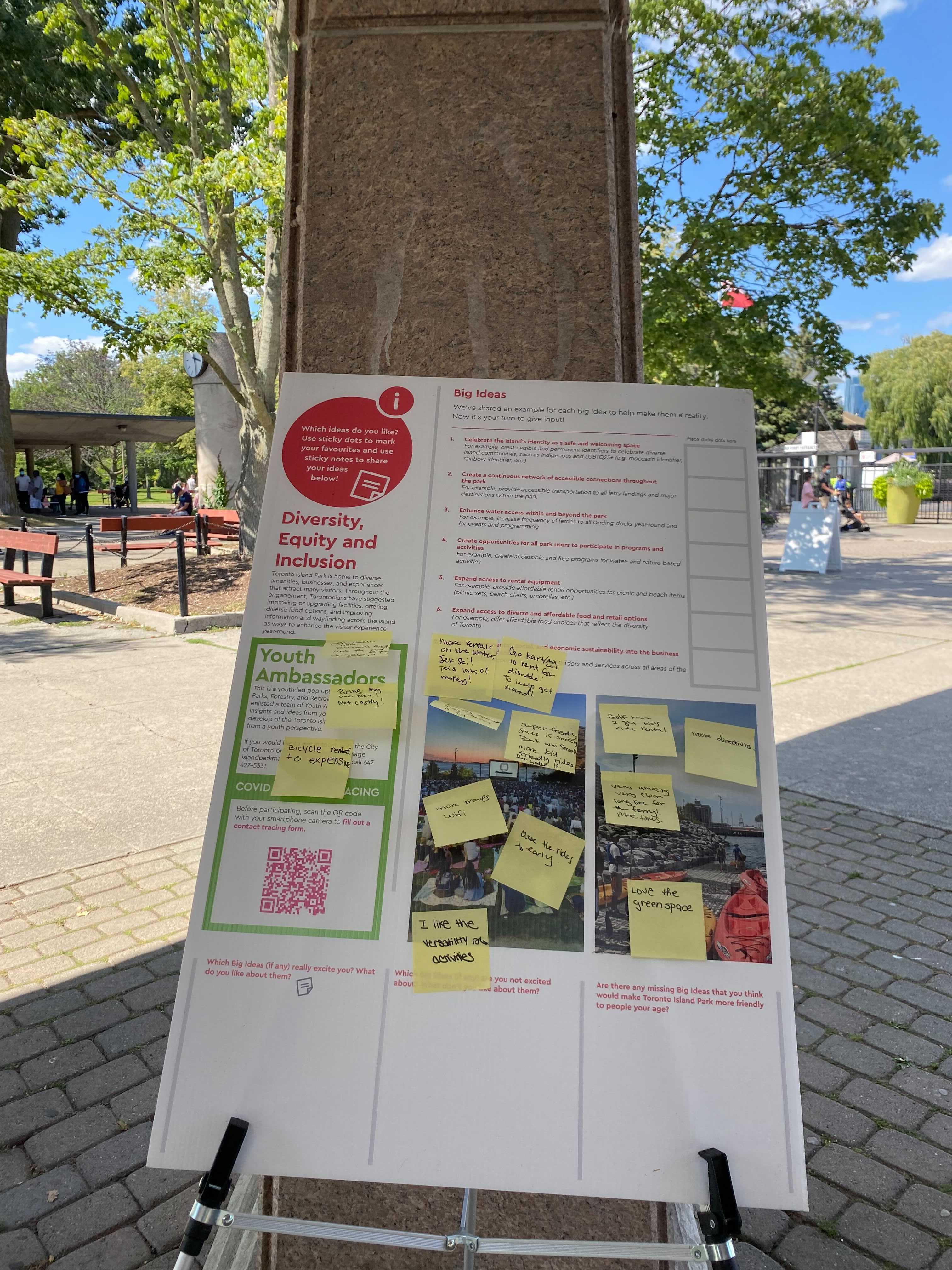 Another learning from the process is that despite the breadth of audiences involved in the project, it's been important to hold space to go deeper through small group workshops centred on equity.
Some workshops included visioning exercises guided by Bob Goulais, an Anishinaabe facilitator, where participants closed their eyes to envision the future of the Islands..
"It's a much different way than bureaucratic engagement, where we're going inwards and acknowledging a little bit more of the soul and the spirit," said Muñoz."It's a much different way than bureaucratic engagement, where we're going inwards and acknowledging a little bit more of the soul and the spirit," said Muñoz.
Other initiatives included an "equity and belonging deep-dive," and a video interview with activists and historians about the LGBTQ2S+ history of Hanlan's Point, a clothing-optional beach on the Islands.
At these sessions, "the turnout would be smaller, but the conversation would be much richer. None of these conversations ever went the way you thought that they were going to go. And they always were incredibly meaningful," Muñoz said. What other cities are doing:
Going deeper through one-on-ones: To help inform Ottawa's new Parks and Facilities Master Plan, one-on-one interviews were held with city staff from the Accessibility and Anti-Racism Offices as well as community organizations working with equity-deserving groups.
Meeting people where they're at: To help inform Vancouver's new CitySkate strategy, the park board hosted a series of pop-up skate parks in partnership with the Vancouver Skateboard Coalition. "This engagement process taught us a lot about the diversity of Vancouver's skateboarding community … and the opportunities the Park Board has to support a community that has been traditionally perceived as troublemakers by the general public," said Park Board staff.
Broadening voices at the table through digital methods: Mississauga increased online methods, including social media posts: "These [methods] have resulted in wider notifications about projects, resulting in a diverse array of voices to be heard as compared to our usual in-person meetings," city staff shared.
Improve policies and protocols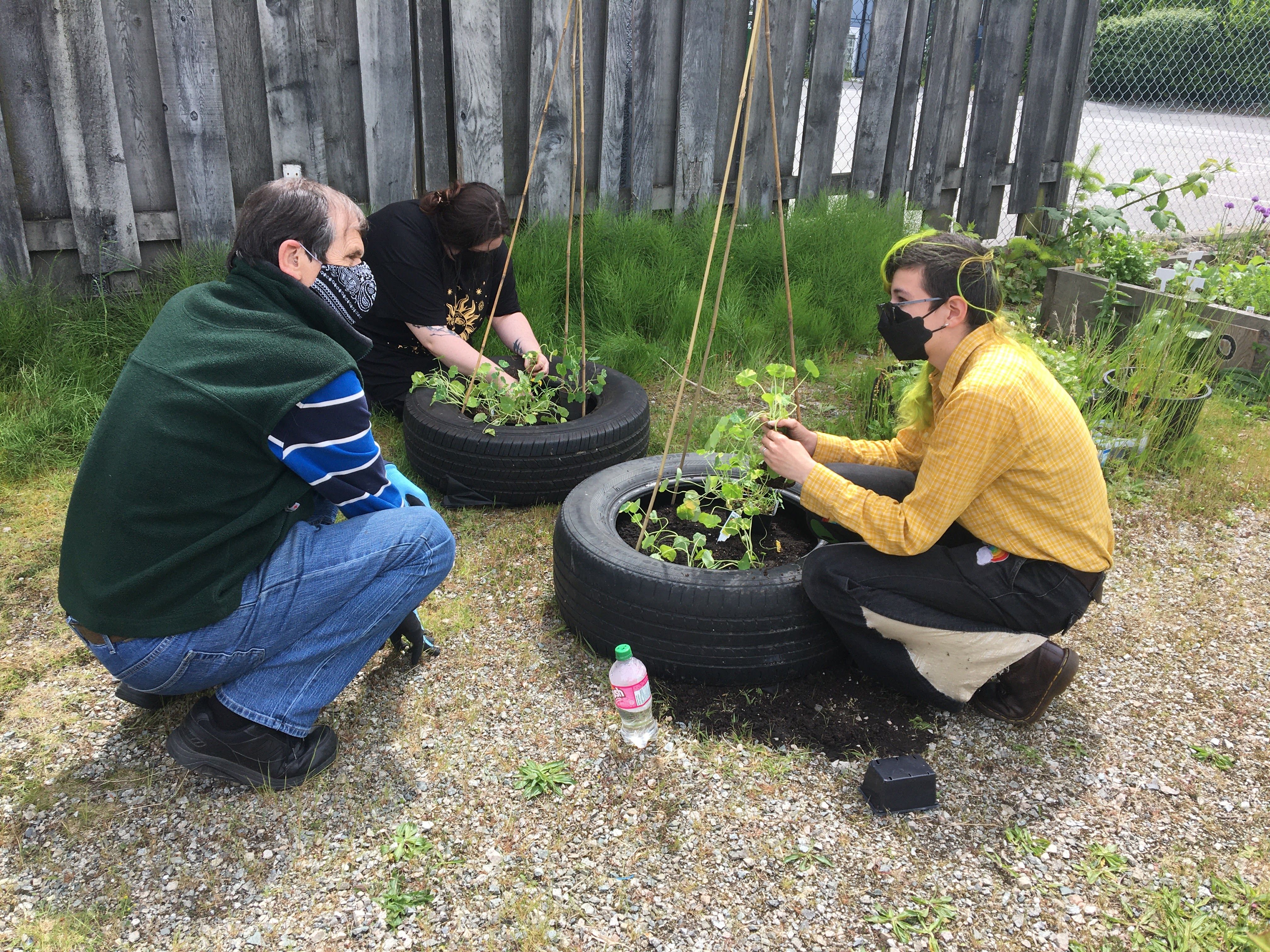 Zahra Ebrahim, Co-founder of Monumental and Park People Board Chair, said that when it comes to deepening engagement, in many ways cities are "set up to fail." Through research to inform the Making Space toolkit—a resource for engaging equity-deserving communities in planning processes—Ebrahim and her team learned that cities may face internal barriers to implementing meaningful processes.
However, many of these issues could be addressed through "simple intervention points," Ebrahim said:
Formalize equity in consultation design. For one, Ebrahim said, there is often no formal mandate to embed equity into consultation design, which leaves it "completely ad hoc and determined by the will of the individual who's responsible" to incorporate elements like language translation, compensation for participants, and childcare.
Develop a clear transition planning protocol. As is common in municipal contexts, portfolios move across staff, often without a structure for people to document the high-level process, outcomes and learnings. Creating a system for staff to log their activities on a simple cover sheet that outlines the timeline of the project, groups engaged, and their contact information, would go a long way in supporting staff to carry on relationships in the event of turnover.
Ensure reciprocity and accountability with community groups. When neighbourhood-based organizations are asked to help engage their local community as part of a city engagement process, it's important to develop mechanisms to ensure these groups are adequately compensated for their time and expertise. Similarly, there should be a 'close-the-loop' process so that these organizations can understand how the community's input was used, and communicate that back to local residents.
Meaningfully assess equity in Request for Proposal (RFP) responses. When engagement work is outsourced through an RFP, the requirements to demonstrate competency in engaging equity-deserving communities are often light. Although RFPs may require potential vendors to describe how they've worked with equity-deserving groups in the past, the questions tend to be surface-level, when they should instead prompt nuanced reflection on specific methods used to address barriers.