Data by Theme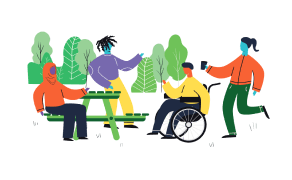 City residents feel strongly that parks should be spaces for all. As our survey results made clear, people recognize that we experience parks differently along lines of gender, race, age, income, and ability—and want everyone to feel welcome in parks and be able to access the amenities that they need. In particular, many city residents took notice of encampments, indicating an openness to sharing space with unhoused neighbours, and expressed growing interest in enhancing Indigenous representation in parks, including restoring Indigenous place names and native plant species.
of city residents would like to see more Indigenous or native plants in parks.
of city residents said they believe people experience parks differently based on aspects of their identity (e.g., race, gender, age).
of city residents would like to see more Indigenous representation in parks through art, regional herbs and medicines, sculptures, or public signage.
of city residents are in favour of renaming park spaces to restore Indigenous place names, with 16% against this practice, and the remaining unsure.
of city residents who identify as having visible or invisible disabilities visit parks 2-3 times per week or more—10% less than people who do not identify as having a disability.
of city residents have noticed the presence of encampments in parks in their municipality. Of these respondents, 62% reported no negative impact on their personal use of parks.
Don't see your city on the list?
Thirty cities participated in this year's report and we hope more will join us next year.