Data by Theme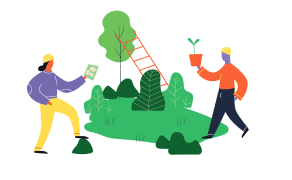 The majority of city residents (55%) reported that they had spent more time in parks over the past year than the year prior. This is down slightly from 66% in last year's survey, however 58% of respondents said they'd like to spend more time in parks, suggesting that while the increased use of parks we saw during the height of the pandemic is waning, park use continues to remain higher than pre-pandemic levels. The impact of parks on well-being continues to grow with increases in reported positive impacts across all metrics, including mental and physical health, connection to nature, neighbourhood and community, and social connection.
of city residents said they wanted to see more public funding go towards improving parks and green spaces, including maintenance (36%), amenities and higher quality designs (35%) and community programming (19%).
of city residents consider their city parks and green spaces to be well cared for.
of city residents are not satisfied with the amount of time they currently spend in parks (would like to spend more time).
of cities have park system master plans in place that have been updated within the last 10 years.
Hectares of parkland / 1,000 people
+ % of parkland that is actively managed, natural area or unclassified
This chart shows the amount of parkland for every 1,000 residents, broken down into three categories: natural parkland ("wilder" areas that receive less maintenance), actively managed parkland ("traditional" parks that often include features like playgrounds and mowed lawns), and unclassified where data was unavailable. There is no "correct" amount of parkland per population as it depends on local context, with denser, more urbanized cities typically ranking lower than smaller rural or suburban cities. This year, cities are providing an average of 7.3 ha of parks and green space per 1,000 residents, an improvement from 7.0 ha in our 2021 report. Ensuring these numbers do not decrease as populations grow will be key to meeting future parkland needs.
Park operating expenditures / person ($)
This chart shows the actual amount spent on operating expenses in 2021, a change from previous years where we reported on proposed/approved operating budgets for the current year. As with parkland per population, there is no "correct" operating expenditure amount. The average is $57 per person—a number that has remained stable for the past four years of the report. However, as we cover in this year's Growth stories, cities are facing new pressures from sustained elevated park use levels that began early in the pandemic—a trend that is expected to continue into the future. As cities turn their attention to pandemic recovery and building future park systems, it will be important that operating budgets increase to meet new demands through an equity-informed lens.
Toronto and Winnipeg provided 2020 actuals as 2021 data is not yet available. Data not available for Montreal.
Don't see your city on the list?
Thirty cities participated in this year's report and we hope more will join us next year.