Data by Theme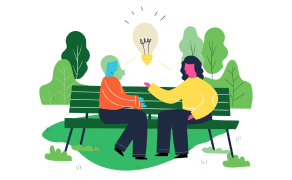 City residents and community park groups are eager to get involved in supporting their municipalities to make parks great. However, only 22% of city residents feel like they currently have a voice in influencing decision-making about their local park, down from 34% last year, raising questions about the effectiveness of online engagement methods cities have leaned on more heavily during the pandemic. There's an emerging opportunity to improve collaboration by providing clear and meaningful avenues for engagement in park planning processes and volunteer-led programming, especially for groups who have historically experienced barriers to participation.
of cities said they switched to more online methods due to Covid, while 54% said they have a greater interest in new and creative engagement methods, and 35% said Covid made them more intentional about outreach to equity-seeking groups.
of cities said they have a strong relationship with community or volunteer park groups (e.g. resident-led volunteer groups, like park friends groups), whereas only 44% of park groups feel that they have a strong relationship with their municipal parks department. 83% of these groups would be interested in deepening their relationship with the municipality if there was an opportunity to do so.
of city residents do not feel that they have a voice or the ability to influence what goes on in their local parks (up from 41% in 2021), compared to 22% that said they did and the remaining unsure.
of city residents that identified as Black, Indigenous or a person of colour reported that they're unsure how to get involved in municipal park planning processes and 35% are unsure if their participation would make a difference – both barriers that prevent them from becoming more involved – compared to 39% and 31% for white respondents, respectively.
# of volunteers / 1000 people
Volunteers involved in city-led volunteer programs are crucial to supporting stewardship and restoration efforts, community events in parks, and so much more. While many of these programs shuttered throughout the pandemic, we're seeing many volunteers return en masse to activate their parks once more. This year, cities have an average of 4.4 volunteers per 1,000 residents—up from 2.7 last year and inching closer to the 11.6 volunteers per 1,000 we saw pre-pandemic.
Don't see your city on the list?
Thirty cities participated in this year's report and we hope more will join us next year.